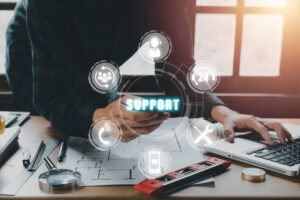 Staying competitive and achieving sustainable growth is a challenge for small and mid-sized businesses. Yet, with the right strategies and support, your business will leverage technology to fuel success. Consider how partnering with a competent IT consulting partner, will accelerate your organization with valuable expertise and solutions.
Leveraging Technology for Growth
When your business is ready to expand/grow, technology plays a pivotal role in unlocking that potential. An IT consulting partner provides customized solutions that align with your unique goals and objectives. With expert lift from your IT partner your business can implement cutting-edge systems, streamline processes, and improve operational efficiency. From implementing customer relationship management (CRM) software to optimizing supply chain management, your IT consultant will empower your business.
Enhancing Productivity and Efficiency
Efficiency is a key to staying competitive. Your business wants to maximize productivity while minimizing costs. Your IT consulting partner helps your organization identify ways to automate tasks, streamline workflows, and eliminate bottlenecks. By integrating advanced tools and software solutions, you can optimize your operations, reduce manual errors, and focus your resources in areas of growth and competitive customer service. From cloud-based storage systems to automated reporting tools, IT consulting lets your business do more with less.
Ensuring Cybersecurity:
As technology evolves, so do the associated risks. And it's easy to assume that your small to mid-sized business is exempt from cyber threats. Perhaps it isn't worth the effort of a hacker. Actually, the opposite is true. Small businesses usually make easier targets for cyber crime. And while the payout may be less—the effort to hold your business data and processes hostage can be much easier. Keep in mind that a single security breach will have devastating consequences. Your IT consulting partner plays a vital role in helping your organization fortify your digital defenses. By conducting thorough risk assessments, implementing robust cybersecurity measures, and educating your employees about best practices, your IT consultant safeguards sensitive data and protects against potential cyberattacks. Fact—a secure business has a competitive advantage in the marketplace.
Innovation
Innovation is what separates your business from the competition. Your IT consulting partner provides valuable insights and guidance on emerging technologies and industry trends. By keeping abreast of the latest innovations, your business will identify opportunities to pull ahead and shift strategies accordingly. From data analytics to automation, your IT consulting firm helps your business explore new avenues for innovation so you can remain at top of your customer's mind.