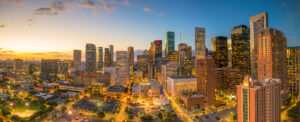 In a constantly fluctuating world of technology, it is imperative to have options in place to take of things when they break or malfunction, but more importantly, to keep them functioning at their peak before they break. At The 20 MSP, our IT team knows this to be true no matter the company or industry we're working with. 
Having your IT team performing at its top is critical, but for many Houston businesses, internal IT teams don't provide exactly what their company needs to avoid costly delays and downtime. This is because in-house IT teams typically work when everyone else is working; during traditional work hours. However, our technical world is changing and functioning even while we're sleeping, so many businesses find it's better to utilize a managed IT team in Houston to monitor and fix their technical needs. 
Our Managed IT Services
If your company has found itself losing precious time and revenue due to an IT slowdown when things need to be fixed, it might be time to move on to a managed IT team. A managed IT team helps you when you need it and monitors to protect your systems at all times. Here are some of the benefits to expect from our managed IT services:
IT services that cost a fraction of in-house IT services

24/7 monitoring and repairs to keep your company functioning

No downtime or lost revenue

Team of IT experts

Custom-tailored solutions that meet your needs and your budget
Many mid-sized Houston companies are surprised when they consult with us because they discover they can save so much money by hiring an externally-managed IT team. You'll benefit from a team dedicated to your company and your success without having to pay full-time salaries, benefits, taxes, and other expenses. 
What Does Managed IT Do For Your Company
On top of benefitting your company with cost and time savings, our managed IT teams are IT experts in all fields. They know how to look for possible threats, ransomware, and viruses plus find efficiencies within your systems to keep things functioning as best as possible. Our IT teams can offer the following for you:
Cybersecurity services

Compliance services if you work with HIPASS, PCI, or others

Infrastructure organization

Billing

Accounting

CRM Management

Backup and disaster recovery

Documentation

Software integrations
We leverage our skills to keep your company functioning at its best. We are there when you need us, behind the scenes when that makes more sense, and always available for the slightest need.
Schedule Your Managed IT Consultation
If you're ready to discuss how managed IT could benefit your company, we'd love to speak with you. We proudly serve clients in the Houston area and nearby.
When you choose The 20 MSP, we don't consider you as a prospect or a job; you are our partner. We work with your company to make you successful and treat your IT like the IT systems we own. We will help your IT systems become assets; not just costly investments. 
Our team will see what you have in place and what you might need before creating a custom bid just for you. To speak with our team, please contact The 20 MSP today or call us at (866) 349-5501.